Solve your power issues with ONE SYSTEM in busSTRUT.
One of the challenges with designing a commercial space is preserving the architecture and design while making way for critical building systems like electrical, lighting, security, and information technology. busSTRUT solves this by providing it all in One System.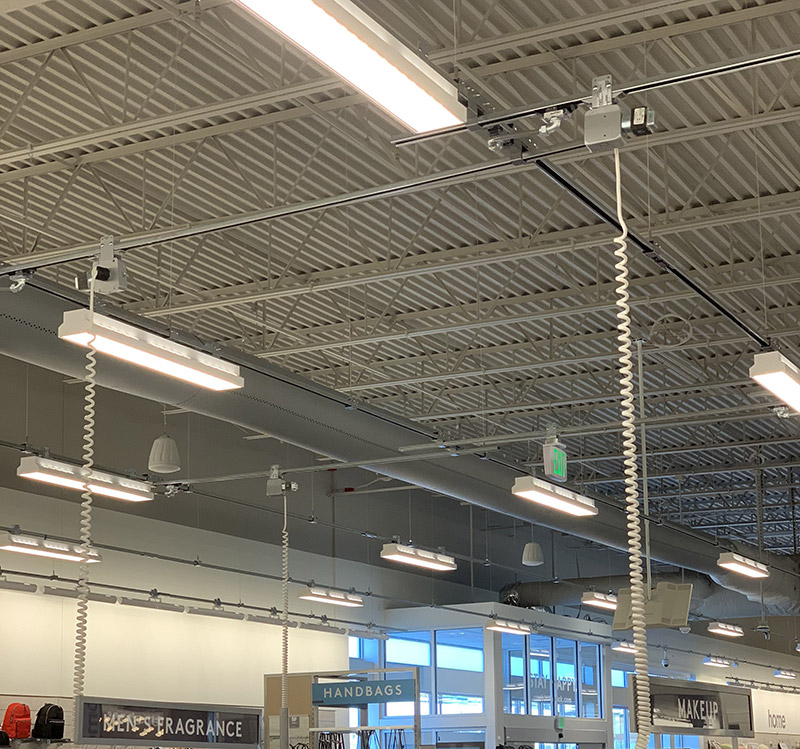 Supplying Power Where You Need It
busSTRUT offers a suspended power distribution system that provides reliable and safe power strut connections. With busSTRUT overhead, power sockets are no longer limited to the walls or floor. You can have a well-lit area, maintain strong and consistent WiFi signals throughout, and decorate the space with zero cable clutter.
Busways are modern, cost-effective tools for distributing electricity in a building. busSTRUT is a busway, a prefabricated electrical distribution system with insulated conductors hidden inside a steel strut housing.
Because of the nature of busways, one perpendicular row can often aggregate many branches into just one homerun feed. Individual busSTRUT sections may be double-decked in the field to achieve up to 4x40amp circuits. Feeding costs with busSTRUT are drastically reduced because busway projects inherently have far fewer homerooms.
busSTRUT ingeniously eliminates the need for in-field wiring of branch circuits. busSTRUT takes no longer to hang than unwired strut, and once it's up, so is the branch circuit wiring! Fused jumper cords allow rows of field wiring to be cost effectively fed from the stacked perpendicular trunking feeder bus. Therefore, there's no need for 20amp fixture fusing.
Imagine a spacious commercial space without pillars or interior walls that could conceal electrical wiring. How will you feed light fixtures, IoT devices, or appliances in the middle of the space? You might think of using floor cord covers, but our system does it better!
The overhead electrical plug-in devices you can move with busSTRUT are more practical, cleaner, and safer than having the plugs on the floor. busSTRUT offers these plug-in devices with externally operable circuit breaker.
With busSTRUT's continuous "open-slot" design and ingenious Flip-Fitters, cost effective universal connectivity and complete design freedom is assured. You can skip all the labor of hardwiring each fixture to a junction box, and with busSTRUT you even have the flexibility to move your fixtures in the future.
No Compromising Style for Power Connectivity
busSTRUT can utilize numerous methods for dropping power anywhere in your space. The flexibility of busSTRUT allows for twist-lock receptacles, octagon boxes, drop cords, or junction boxes to be placed anywhere along busSTRUT, thus eliminating the typical maze of cords and cables. In fact, busSTRUT has the ability to add movable bridges to precisely locate power drops. As a result, busSTRUT power drop cords can run through a pole and always hang straight.
busSTRUT optimizes overhead space by providing power, digital, and structural connections from one system.
At the same time, our multi-purpose system hides visual clutter and offers a sturdy physical frame for hanging decorative fixtures, faux wood boards and even a TV screen.
Hook up power, data, and smart technology with fewer complications by deploying all those systems with busSTRUT. Our system combines the strength and functionality of steel struts with the versatility of an open-slot busway. Our pre-wired strut system can carry low and high currents to meet different power distribution requirements in your retail store, warehouse, factory, or other facility.
busSTRUT powering all types of devices
What is a busSTRUT System?
Overhead Power Distribution
busSTRUT is not simply lighting track, it is a busway. Because of this, busSTRUT is capable of delivering power to items beyond just light fixtures (such as power drops to floor fixtures, etc). This is unlike mere lighting track, which per the National Electrical Code, Article 410.151A, allows for only lighting fixtures to be used with track.
NRTL listed to UL 857 Busway Standards
Busway is regulated under a higher code than lighting track. busSTRUT busway was engineered to carry and distribute power per NEC Article 368, and NRTL listed to UL 857 standards.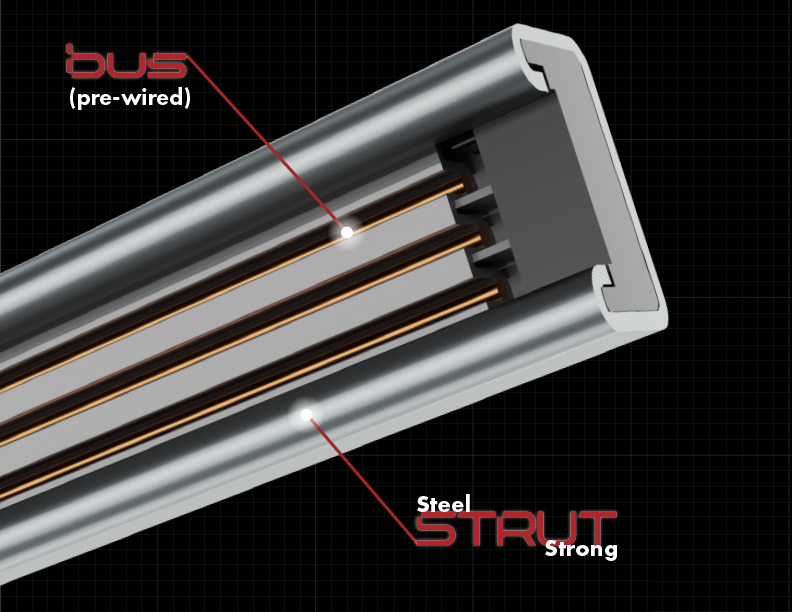 Being UL 857 compliant, busSTRUT can safely distribute power to lighting, IoT (Internet of things) devices, floor appliances, etc.