The advantages of utilizing Powerline Networking
An advantage of busway over lighting track is the capability of supplying power to devices other than just lighting fixtures…including Powerline Networking adapters! We have patented this unique combination, and refer to it as busLINK™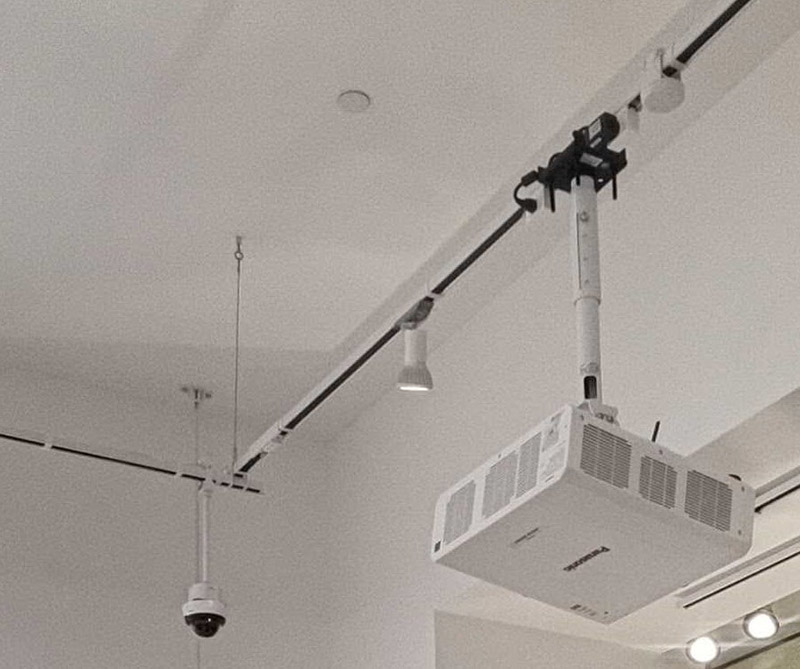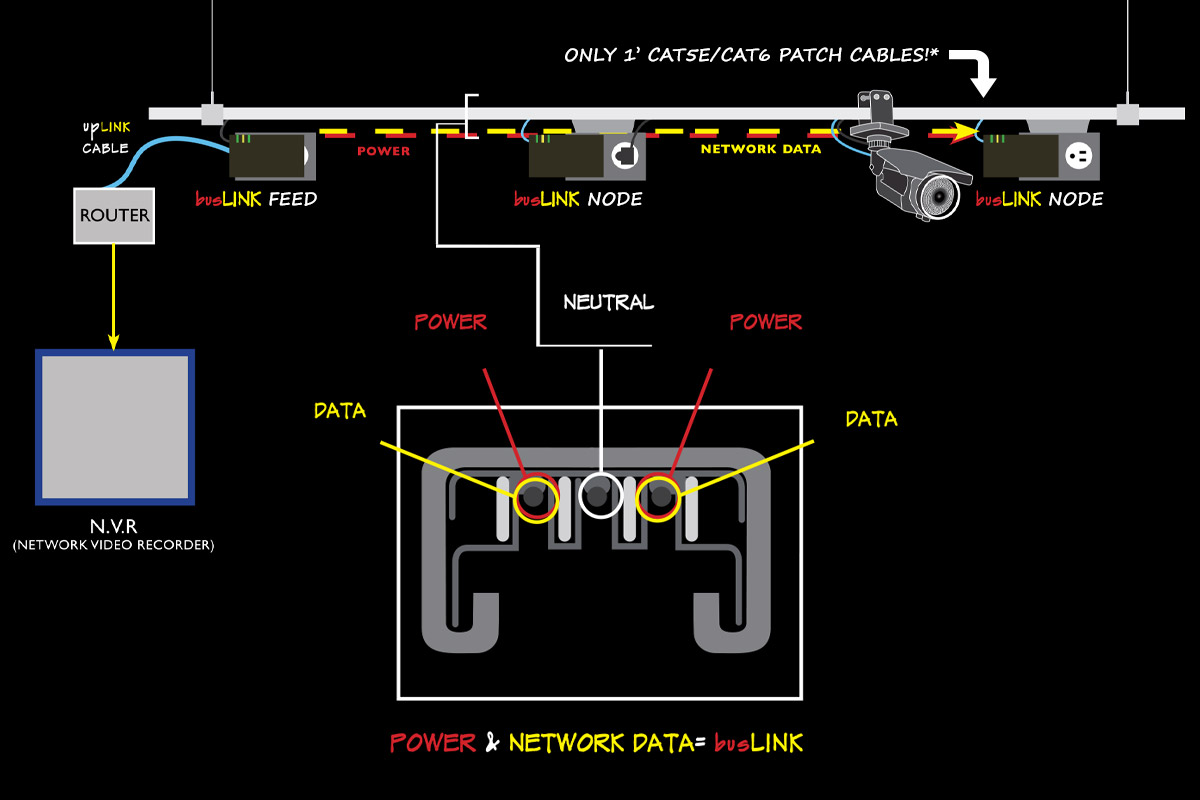 * only 1' Cat5e/Cat6 patch cables! Your mind should be blown, as this means no need for costly long (100-500ft) cables to bring data to the network rack. On busLINK, patch cables are simply needed between the Powerline Networking adapters and the respective cameras/sensors, as once the data in the patch cable reached the PowerLine adapters, data is flowing through the busSTRUT's pre-existing copper wires. Not only is the cost of lengthy Cat5E/Cat6 cables (and the labor to route/install) eliminated, but this also means the cameras/sensors can flexibly move anywhere along the busSTRUT system.
With busSTRUT overhead, you can rest assured that cameras/sensors can be easily installed and moved in the future.
The same factory installed copper wires in the busSTRUT used for power, are also optimal for data transmission. busSTRUT transmits data to/from cameras with no additional cabling required.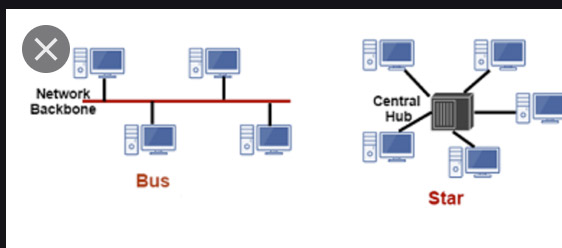 Conventional networks utilize what is called a 'Star' topology.
This means that each device on the network must have a Cat5E/Cat6 cable separately hand-wired between the networked devices. Each conventional network cable is capable of 1000mbps, but that is far more bandwidth than most devices require.
For example, the industry standard H.264 compression uses a maximum of 8 mbps for a 1080p camera streaming at 30 frames per second. That is a mere 1% of the bandwidth of the dedicated network cable installed between the network closet/rack and camera.
In short, Cat5/Cat6E conventional cables via network star topology are overkill for network video surveillance.
busSTRUT Integrated Powerline Networking
busSTRUT has integrated powerline networking technology for use with our busway's open-slot accessible 8 AWG copper. busSTRUT's busLINK powerline technology uses a 'bus topology,' rather than the aforementioned star topology. This allows all nodes on the network to share the same network cable. However, unlike most bus topology networking technologies, that shared network cable doesn't need to be installed at all! That is because the copper conductors within the busSTRUT are themselves the network cable.
Utilizing copper to distribute network data is not a new technology, it is commonly referred to as "Powerline Communications." The power companies have been using powerline communications since 1920 allowing them a way to control power by sending signals over the main transmission lines.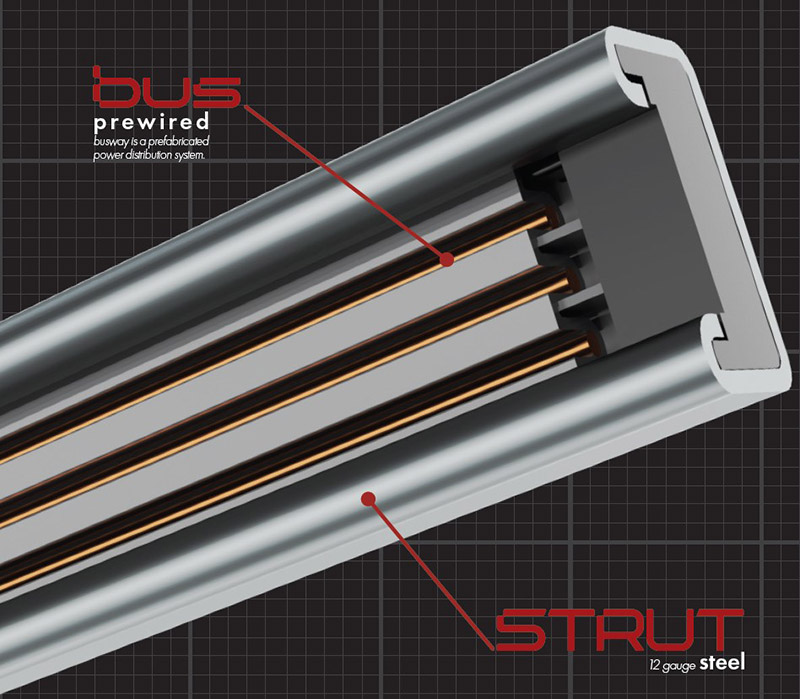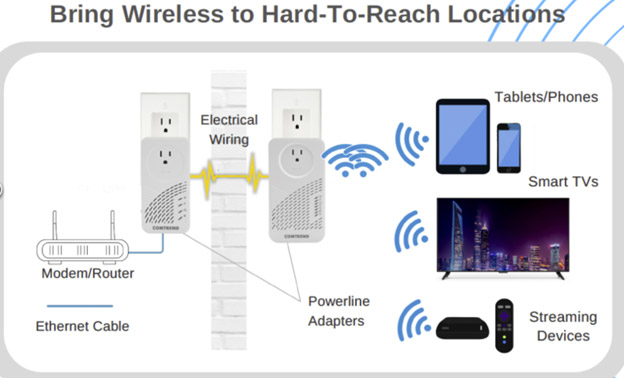 Details on Powerline Networking
The latest version of powerline networking is referred to as 'G.hn Wave 2,' and it is advertised as capable of up to 2,000,000 mbps using typical 12 AWG wires (keep in mind that busSTRUT is 8 AWG). Admittedly, because of the aforementioned 'bus' as opposed to 'star' topology, that 2,000,000 mbps is shared between all adapters on the network. However, even with 16 devices on the network, that allows for a theoretical bandwidth of 125mbps for each adapter. As mentioned, security cameras only use up to 8 mbps.
When busSTRUT was invented in 2004, it was decided that oversized 8 AWG copper wires be used to minimize voltage drop over long distances. It turns out that same oversized copper wire is also useful for transmission of data over long distances. busSTRUT's busLINK technology is validated for 1,000 linear foot range. It should be noted that standard Cat5E/Cat6 'star' topology networks have a maximum range of 328ft.
Safely Securing Data on overhead Electrical Circuitry
The use of the busSTRUT busway technology is a good application to isolate the electrical noise from other lighting/power equipment. busLINK powerline adapters work seamlessly within the same busway powering other equipment. The HomePlug Alliance added filters to mitigate noise from high-rated power equipment.
In short, the busSTRUT busway is a great application to employ the HomePlug AV2 technology to isolate the harmonics, electrical noise, and voltage spikes from other equipment.
Per the attached from a highly regarded engineering firm in 'Greenberg Farrow.pdf', it is their opinion that incorporating powerline networking on busSTRUT is a good application that works seamlessly.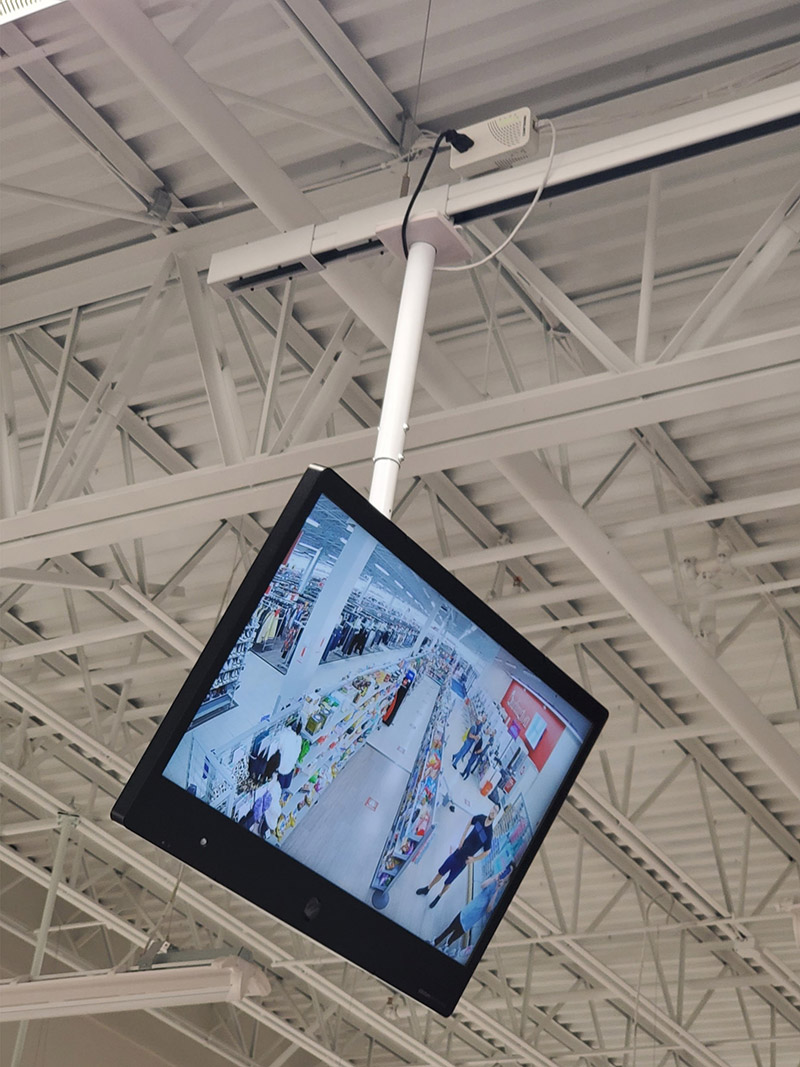 Everywhere along the busSTRUT is a potential network tap, and all one needs to do for such tap is to add:
More Details on busLINK Powerline Networking
Having established the importance of busLINK powerline networking for security cameras, let's talk about next steps:
All camera brands are supported.
busLINK is completely open to all network camera brands. Any ONVIF Profile S camera (an industry standard, Bosch, HIKVISION, and many others have all their cameras made to be compliant with this standard) can work on the busSTRUT system. Network data is simply comprised of 1's and 0's, so even non-'open'/ONVIF camera brands should also work as well.
Installing Network Taps is Plug & Play.
Each busSTRUT feed represents a potential separate busLINK powerline network. busSTRUT is 2 circuits with a shared neutral; because G.hn powerline networks use the neutral to carry data, both circuits carry the same data (which is a good thing, as otherwise the separate networks for each circuit would get confusing).
Commissioning the busLINK Network
The only steps unique to setting up a busLINK network, as opposed to the conventional star topology, is in connecting the busLINK network to the building's network. The information carried along the busLINK reaches your main network via (1) ethernet cord to where the Network Video Recorder/Network Rack resides. This is referred to as the 'busLINK Host'.
While each busSTRUT network is limited to 15 busLINK nodes and 1 busLINK Host, multiple such busLINK networks can be linked together. This means that busLINK's main two limitations, 1,000 linear foot range and maximum of 15 nodes, are easily compensated for via the addition of more busLINK networks.
It is important to note that while each busLINK network can have 15 busLINK nodes, that limitation is imposed by the number of powerline devices that can share the same 'bus.' So, depending on the G.hn Wave 2 model selected, up to four RJ-45 ports are available on some such powerline adapters (so 60 devices total).
busLINK Nodes are simply comprised of a busSTRUT straight blade receptacle fitter (TK50-SBR; spec sheet attached), a G.hn Wave 2 powerline adapter plugged in to that receptacle—and whatever network device you'd like networking data to be connected to is simply connected to the aforementioned powerline adapter via a short Cat5 cord between such device and the adapter's RJ-45port.